by Scott Creighton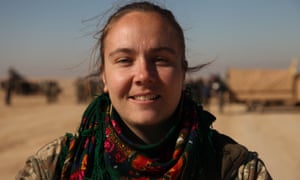 "I would die for this" says the PR front-woman Kimmie from her latest photoshoot
Oh the Kurds are so wonderful, aren't they? They're so democratic. They're just bringing all sorts of democracy to Syria, it's wonderful to watch.
This is the message of the latest manufactured hero, Kimberley Taylor, a British citizen (why is it always the Brits?) who has decided what the whole world needs is Greater Kurdistan.
"In Europe everyone's depressed or has money problems or is losing jobs. Life is losing its meaning because of the capitalist system. But Rojava is an example for the whole world to follow. When I first arrived I thought: 'I have to be here. I have to learn everything and be part of it'."Guardian
Rojava is Syria, actually. It's the part of Syria that the Kurds want to bust off for themselves and add it to Iraqi Kurdistan to make half of Greater Kurdistan.
"Kimmie" has been "training" with the Kurds for some time, 11 months to be exact. She's been learning regional politics and combat tactics.
"Known as Kimmie and also by the name Zilan Dilmar, she told the Guardian she had spent the past 11 months learning Kurdish and studying regional politics, weaponry and battlefield tactics at the YPJ's dedicated military academy."  Guardian
Of course, she wont need those battlefield tactics. Though there are pics of her with various forms of weaponry, in reality she's nothing more than propaganda. A new "liberal" hero for young Brits to get behind as she promotes the Israeli/U.S.-backed Greater Kurdistan nation building exercise. What Condi Rice once called the "New Middle East"
"Taylor is part of the YPJ's combat media team, with whom she moved to Raqqa last week. Her primary job is to record the militia's operations, writing battlefield reports and taking photographs and video of the action." Guardian
Kimmie said in an interview that she would die for this. She also says she was primarily motivated to join the cause by the "enslaved 5,000 Yazidi women" propaganda that started with a photograph of chained women being led down the street by a guy with a comically huge sword.
Then there were other images of the same ilk.
Turns out, like the "Kimmie Warrior for Freedom" story and the "incubator babies of Kuwait" tale, it was all bullshit. These images are from the Shite ceremony of Ashura in 2011. That explains the big plastic sword and the plastic chains on the women's arms. I tell you what though, it is almost impossible to find a link to this deception's correction via Google or Yahoo. But I found it.
Not only did I find it, I wrote about it two and a half years ago. The article I linked to said there are no actual photos of "ISIS" chaining up women, but "its real" they claim.
Filed under: Greater Kurdistan, Kurdi Kimmie, Kurdistan, Scott Creighton | 16 Comments »